Rincala
Yet another game that is easy to explain and suitable for any age, where some thinking comes in handy.
For 2 and 3 players, ages 8 and up, with simplified rules for younger players.
Published by Gerhards Spiel und Design

Rincala – 20 × 20 cm gameboard made of solid beechwood, treated with protective oils, lacquered wooden playing pieces in 4 colors.

Available now from nestorgames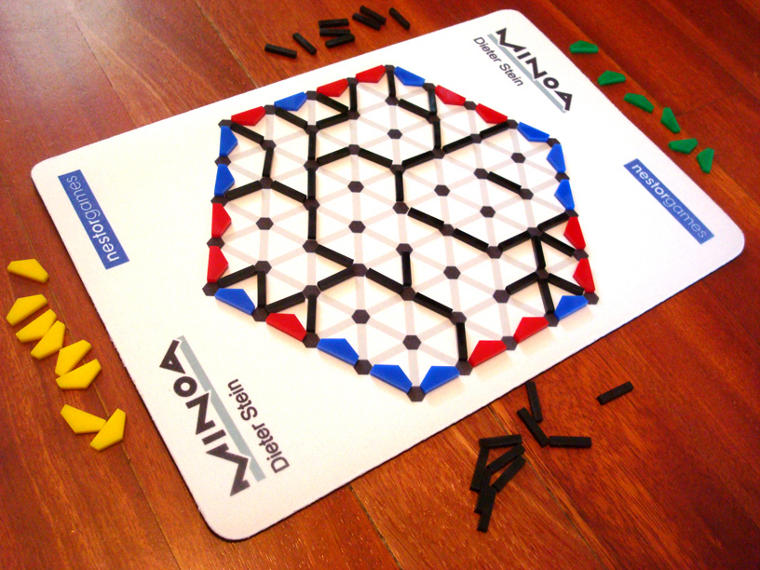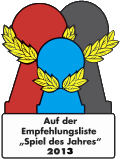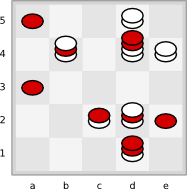 Red to move and win in 2. Click on the board to reveal the solution.
e2-e4!
White cannot avoid Red's winning move e4:3-c2. White's d3 is followed by d4:4-d3, e4-c2 is followed by c2:3-e4 and after e4:2-c2 Red wins with d4:4-e4. Click again to take back the move.
Short Mixtour Rules:
The height of the target tower determines the move range, straight orthogonally or diagonally only through empty spaces, you may move opponent pieces and split towers at will; the top piece of towers of height 5 determines the winner.
Official rules …
Mixtour Notation:
a1: add a piece, a1:2-c3: move two pieces from a1 to c3, a1-c3: move only one piece
Spiel des Jahres
Recommendation 2013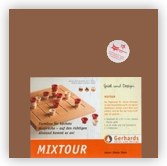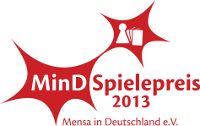 German Mensa society (Mensa in Deutschland e.V.)
MinD-Spielepreis 2013 for Mixtour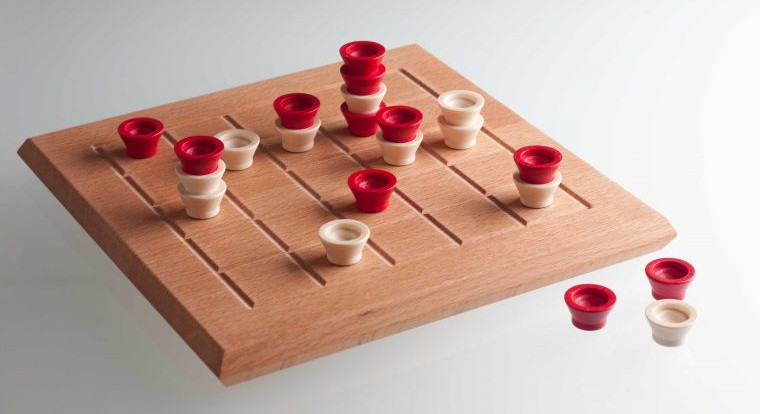 Tower-building to the highest standards – it's all about the right distance.
Mixtour: Rules / Play online / Puzzles / published by Gerhards Spiel und Design
Accasta · Abande · Attangle · Fendo · Manalath · Minoa · Mixtour · Ordo · Paletto · Volo · more …